MEDIA CENTRE > Latest News
Asogli promises another exciting yam festival this year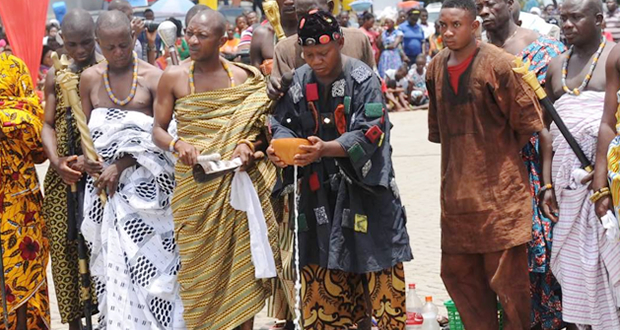 The Asogli State in the Ho Municipality of the Volta Region has promised to serve revelers an exciting festivity in this year's Yam Festival celebrations slated between August 25 and September 17, 2017

The Asogli Yam Festival since its commencement in 2003 has undoubtedly become one of the flagship festivals in the Volta Region, thereby winning a spot on the tourism calendar of Ghana.

Speaking at the press launch of the 14th edition of the Asogli Yam Festival in Ho, the Chairman of the Planning Committee noted that this year's celebrations are laced with series of exciting activities aimed at offering a more intriguing festival.

Brig Gen Martin Ahiaglo (RTD) said, "over the years, we have been working hard to improve on the festival and this year has been no exception, as we are poised to serve our visitors a better and more exciting festival."

He added that the festival serves as a catalyst for branding and marketing the Asogli State to the outside world and had significantly contributed to the growth of tourism and economic advancement in the area.

"One of the major achievements of the festival was the logical effect of the influx of tourists in the large numbers of hotels springing up in the state".

"It [the festival] has also boosted commerce and trading activities, leading to the increasing number of banks to serve the booming economic environment", he added.

Festival activities

The "Asogli Medical Aid Fund" aimed at providing urgent medical care for vulnerable children of the Asogli State would be launched during this year's Yam Festival celebrations.

A new event has also been added to the Festival dubbed the "#GhanaBeninTogoKingsConnect2017" which would serve as a platform to reconnect Ewes in the 3 West African countries coupled with an exhibition of the indigenous Ewe culture.

Among the numerous exciting activities, lined-up is the popular hailing of the new yam carnival or "Teyuyru" in Ewe scheduled on September 10, which thousands of participants are expected to take part.

The Climax of the festival is the grand durbar which would be held on September 16, where the Agbogbomefia of Asogli State and President of the National House of chiefs, Togbe Afede XIV would sit in state.
---

MEDIA CENTRE