MEDIA CENTRE > Latest News
Launch of 2018 Asogli Te Za & The 15th Anniversary Celebration Of Togbe Afede XIV, Agbogbomefia of Asogli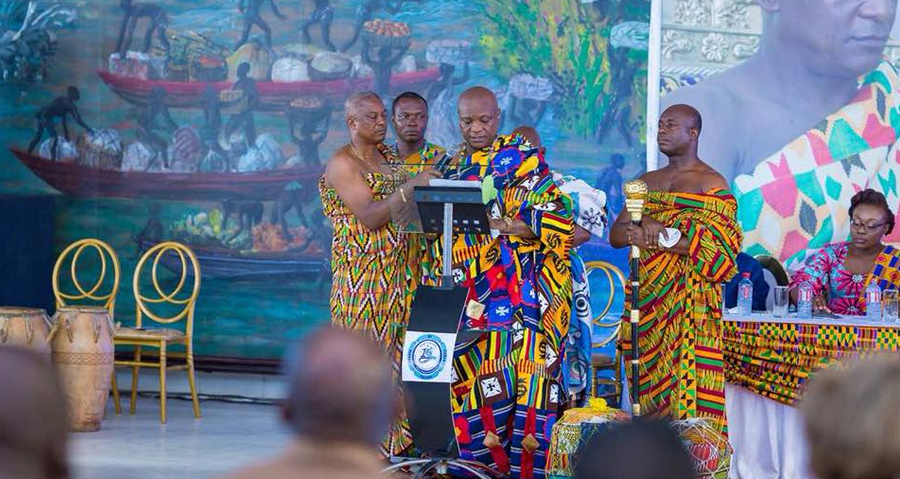 Madam Chairperson; our Guest of Honour; Togbewo, Mamawo, Nananom; Ministers of State; Honourable Members of Parliament; Members of the Diplomatic Corps; The Clergy; the CDS: the representative of the IGP; Distinguished Guests; Friends from The Media; Fellow Citizens and Friends of Asogli State:

It is a great joy for me that you are all here, and I want to thank you all for the tremendous interest you have shown in this historic event. I am indeed honoured by your response to our invitation. I also would like to thank you all for your support over the past 15 years.

Many of you probably know that chieftaincy in the Volta Region does not come with all the riches in mining royalties, extensive stool lands, etc. That partly explains why many would-be chiefs run away to avoid the entrapment. Naturally, kingmakers have also tried to master their art.

As I recounted in this very hall during the launch of my 10thAnniversary, the 25th day of September 2003 was a normal day, or so I thought. I returned from work at about 2am and retired to bed. Three-and-a-half hours later, at about 5:30am, my security man came to knock at my door to inform me that I had some visitors. I walked into my sitting room, and virtually into the waiting arms of people who had been sent to "capture me" and take me on an unscheduled trip to Ho.

On the 4th of October, after nine days of confinement, I was proclaimed the leader of the Asogli people, a leader without any resources, not even a plot of land.

Several people were part of the plot. The most important actors, who I hold responsible for the loss of my privacy, were Togbe Keteku and Air Commodore Kofi Klutse, the leaders of the captors. Unfortunately, the two of them are not with us today. They both passed away, Togbe Keteku, after abdicating, paradoxically.

However, I would not have become the overwhelming favourite of the people without the support of my late twin brother, Philip Atta Akpo, who accepted to continue his elementary school education while I went to secondary school because the two of us could not be supported.

My late father, Patrick Akpo, and my late friends, Harry Danku and Christopher Manso, among others, were also important in my early life. But of course we wouldn't have been here without the great work of my predecessor, the late Togbe Afede Asor II.

Madam Chairperson, our Guest of Honour, Distinguished Ladies and Gentlemen, may I humbly ask that we observe a few seconds of silence in honour of the memory of these people who deserve to be among us today.

The most important person through whom God worked his magic, to make this day possible, is my mother, Rose Akuyo Anyawoe, who many of you have come to know was a palm wine seller.

She is illiterate. But as I helped sold palm wine, and assisted her on the farm, I learned hard work, perseverance, honesty, humility, selflessness and empathy. The payment of my school fees was a tug of war, so I understand poverty and deprivation, and so I can relate to the circumstances of my people. Distinguished Ladies and Gentlemen, anytime I speak against corruption in Ghana or in Africa, this is the reason why.

Madam Chairperson, that was also why in my inaugural address, on that fateful day, the 4th day of October, 2003, I expressed the belief that my installation marked a new beginning for all of Asogli State. More importantly, Madam Chairperson, I pledged to commit myself to the best interests of my people.

This pledge was in recognition of the desire among the people for development, development that creates jobs, enhances living standards and brings happiness. I also emphasized that all our citizens have a role to play in the unfolding history of Asogli.

Everything I have tried to do ever since has been about making possible the desired change in the lives of our people. I have adopted a national approach, because of my belief that the lives of the Asogli people, Voltarians, and all Ghanaians are inextricably linked. This was what inspired the choice of the theme, Uniting for the Cause of Asogli, Volta Region and Ghana.

We want to take traditional leadership to a new level. We believe that as leaders, chiefs must be committed to the development aspirations of their people. And given our limited resources, we need to be in constant dialogue and collaboration with other actors in the development process.

Madam Chairperson, development is a long and never-ending journey. The essence of the celebration of my 15th anniversary therefore is to take stock and plan for the task ahead; reaffirm my commitment to serving the best interests of the people; and give thanks to God and all who have supported us, and ask for their continuing support.

The theme for this year's Te Za captures our objective for the next five years. We, the chiefs of Asogli, want to contribute our quota towards uniting the people of the Volta Region and Ghana for the cause of development.

In order to lay the foundations, and to effectively inform and mobilize our people and to attract investment into our region, we have developed a website for Asogli State, and have put together two publications, the "Ho Tourist and Business Guide 2009" and "The Volta Region, A Guide to Tourists and Investors".

Today, in furtherance of the same objective, we will be launching our new book, "Unveiling the Volta Region of Ghana". As you will see, the book covers all of Volta, from the north to the south.

For the avoidance of doubt, I want to emphasize that work on this book begun way back in 2016, and long before the announcement of the intention to divide the Volta Region into two. It demonstrates the commitment of Asogli chiefs to a united Volta Region.

Some notable projects that we have promoted recently include:
The 560MW Sunon Asogli power plant, which accounts for 15% of Ghana's power generation capacity, thanks to the support of the chiefs and people of Kpone, who leased land to Sunon Asogli.
Africa World Airlines, which will be expanding aggressively over the next one year in order to realize its mission to make Accra the hub of aviation in West Africa. I want to acknowledge the professionalism and support of the Ministry of Aviation and GCAA.
World Trade Centre Accra, with a mission to integrate Ghanaian businesses into the worldwide alliance of World Trade Centres and expand international trade flows and investment to Ghana in order to enhance Ghana's economic growth and prosperity. We are thankful in this regard for the cooperation of SSNIT.
Volta Region Development Agency, which has promoted a promising friendship between the Volta Region and the Ningxia Autonomous Province of China.
The Asogli Education Fund, which has supported more than 2,000 people from across the country since establishment in 2005.
Philip Akpo Memorial Roman Catholic Junior High School at Ho, built to honour the memory of my twin brother.
Madam Chairperson, as I had said before, my outlook has benefitted from my travels. During my travels, I see "development" that is in contrast with what obtains here, and I ask why?What you see when you look down while you are about to land at Kotoka International Airport can be depressing. Personally though, and thankfully, my sadness usually gives way to a fresh burst of desire, and of determination to make a difference.
This is why over the next five years I will rededicate myself to the noble fight – the battle against poverty, deprivation and suffering. I look forward to the support of all of you as I intensify my efforts to bring more development to our country.
Major developments that we are pursuing currently include:
The 50MW Ada wind power project, in collaboration with Shenzhen Energy Group, owners of Sunon Asogli Power Ghana Ltd.
The 700MW to 2,000MW coal-fired power project, in collaboration with Shenzhen Energy Group.
Volta Fertilizer Co. Ltd, which will built a blending plant in Juapong in the Volta Region.
Ghana Aviation Academy, which will train pilots at the new Ho Airport.
The Phobia Academy, which will be the first modern soccer academy in Accra.
There are many other initiatives in energy, manufacturing, mining, telecommunications and financial technology. I hope we can count on government's facilitating role.
Today, we shall also be launching the Ghana Medical Aid Fund. Madam Chairperson, time and again, we read from the newspapers about people, including children, who are suffering from various strange ailments, making appeals to the public for help. The Ghana Medical Aid Fund seeks to help meet at least part of the needs of these unfortunate people.
Madam Chairperson, our vision is ultimately an African vision. That is why I have led important visits to Togo, Uganda, Liberia and more recently, Zimbabwe.
I have always said, there cannot be development without peace. The desire to help strengthen the peace and unity of Ghana is the reason why the people of Asogli embark on fraternal visits to many traditional areas in Ghana.
Over the next couple of years, I will work towards the resolution of the major outstanding chieftaincy conflicts that are threatening the peace and unity of our country, and also work towards promoting understanding among our various tribes.
Our peace and stability have been the magnets that have attracted and continue to attract investors to our country. So let us remember that between peace and anarchy, we have no choice.
Distinguished Ladies and Gentlemen, I want to thank all who have supported me over the past fifteen years - family, friends, corporate bodies, and all the chiefs and the people of Ghana. You are all a source of strong motivation and inspiration.
I want to say a special thank you to Nana Soglo Alloh, President of the Volta Region House of Chiefs (VRHC), for his continuing support. Special thanks also to the Te Za Planning Committee, led by the distinguished General Martin Ahiaglo.
I want to end by inviting you all to join us as we celebrate over the period, August 25 to September 16. The Grand Durbar is on September 15.
Thankyou all for coming. See you in Ho! God bless you.
Address by Togbe Afede XIV
---

MEDIA CENTRE